PCSHS HELD IT'S 6TH MOVING UP CEREMONY
PCSHS HELD IT'S 6TH MOVING UP CEREMONY
By: Mrs. Ginalyn M. Allen
July 16, 2021 marked an unforgetable event to 644 completers of Pasay City South High School. Amidst pandemic, the 338 Boys and 307 Girls succesfully finished their Junior High School studies through blended online and modular learning.
Such ceremony is under Dep Ed Order No. 027 s. 2021 dated May 24, 2021. The theme for this year's Completion Rites and Graduation Ceremonies is "Kalidad ng Edukasyon Lalong Patatagin sa Gitna ng Pandemya." It highlights that amid all the challenges, the learner's rights to inclusive and quality education and the safety from the health risk of COVID-19 must be given priority.
The ceremenony was aired virtually via facebook live and garnered 11K views. Joshua Matthew R. Cayaban and Fritzel L. Elumba both Second Honors welcomed everyone. The presentation of candidates and the attestation of satisfactory completion of requirements for moving up was done by Mrs. Emilia L. Tolentino, Principal IV and Mrs. Loreta V. Torrecampo, CESO V and Schools Division Suprerintendent of SDO Pasay confirmed their completion.
The advisers of 15 sections proudly called the names of their students as pictures of them was showned on the screen. Zappy Leoj A. Lopez, First Honors delivered his words of gratitude.
DepEd Secretary, Leonor Magtolis Briones, Hon. Congressman Antonino Calixto and Hon. Mayor Emi Calixto-Rubiano also graced the celebration virtually and expressed their congratulations to the students and their parents.
Mrs. Cristina C. Amoyo, English Teacher III gracefully hosted the said event. The program will not be possible without the help and guidance of the our Principal, Asst. Principal, Grade 10 Coordinators, JHS Dept. Heads and the Technical Working Committees. You could still watch the Moving Up Ceremonies at https://fb.watch/7tA6dP-0lH/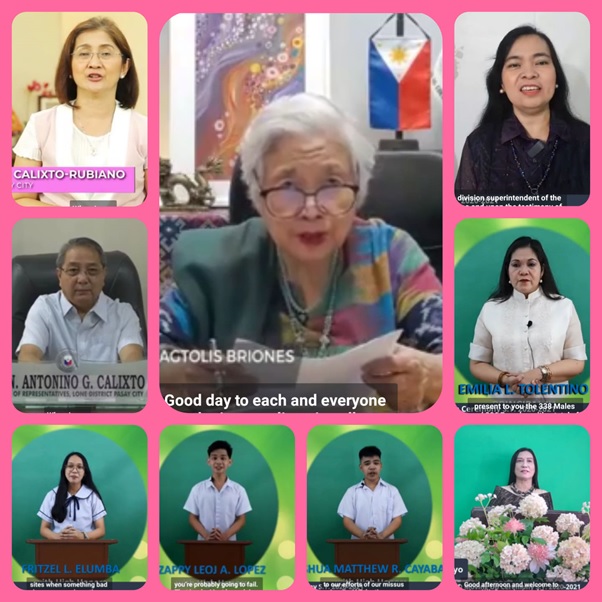 PCSHS 6TH MOVING UP CEREMONY ATTENDEES
(Upper Left) Hon. Mayor Emi Calixto Rubiano (Upper Right) Mrs. Loreta V. Torrecampo SDS SDO-Pasay (Middle Left) Hon. Congressman Antonino Calixto, (Middle Photo) DepEd Secretary Leonor Magtolis Briones, (Middle Right) Mrs. Emilia L. Tolentino, Principal IV
(Lower Photos) Fritzel Elumba, Second Honors, Zappy Leoj Lopez, First Honors, Joshua Matthew Cayaban, Second Honors and Mrs. Cristina Amoyo (Master of Ceremonies)