"Dream. Believe. Achieve.": de Guzman hailed as first-ever DOST-TAPI SanaySci Grand Winner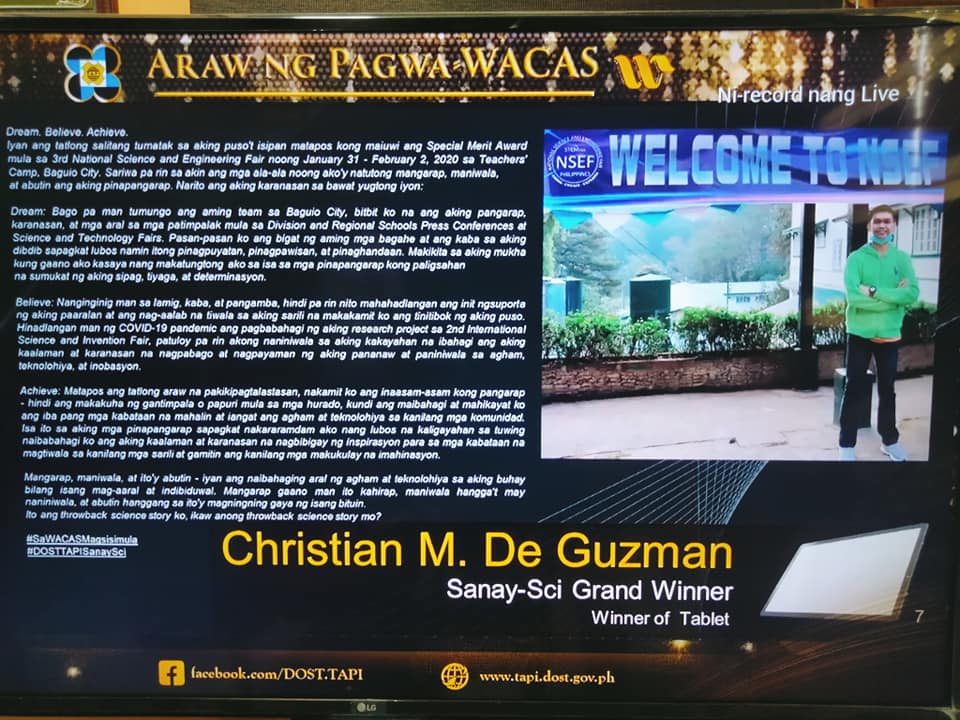 "Dream. Believe. Achieve.": de Guzman hailed as first-ever DOST-TAPI SanaySci Grand Winner
by Christian M. de Guzman
DOST-TAPI SanaySci Grand Winner Entry (Photo from Technology Application and Promotion Institute Facebook page)
National Science and Engineering Fair (NSEF) 2020 standout Christian M. de Guzman hailed as first-ever SanaySci Grand Winner at Week-Long Accomplishments and Culminating Activity of Special Projects of Department of Science and Technology-Technology Application and Promotion Institute (DOST-TAPI) last July 30, 2021.
A former Science, Technology, Engineering and Mathematics (STEM) student of Pasay City South High School (PCSHS) bagged the Grand Winner Prize – an electronic tablet and certificate of recognition for his commendable entry entitled "Dream. Believe. Achieve." in recently concluded DOST-TAPI SanaySci Contest.
The entry was all about his unforgettable experiences in NSEF 2020 and how those three words: Dream, Believe, and Achieve, resonated in his heart and mind after he took home the Special Merit Award from the 3rd NSEF on January 31 – February 2, 2020 at Teachers' Camp, Baguio City.
"Dream. Believe. Achieve." mantra also motivated him to share his amazing journey and encourage the Filipino youth to believe in themselves and lift Science and Technology to their communities.
Although the pandemic hindered his research presentation in 2nd International and Invention Fair, he still believes in his knowledge and experiences that changed and enriched his perspective in science, technology, and innovation.
de Guzman is an incoming sophomore student of Bachelor of Science in Civil Engineering program in Technological Institute of the Philippines – Manila, and a Salutatorian STEM graduate of PCSHS who was also a multi-awarded campus journalist and news writer in the Division Schools Press Conference of Pasay City for three consecutive years.
de Guzman also won his first-ever first place at the Division of Science and Technology Fair 2019 of Pasay City and fourth place at the Regional Science and Technology Fair 2019 of National Capital Region in Senior High School-Physical Science-Individual research category.
Reference:
Christian M. de Guzman, Former Editor-In-Chief and News Writer of the Official PCSHS English Newspaper – The Wings